Introduction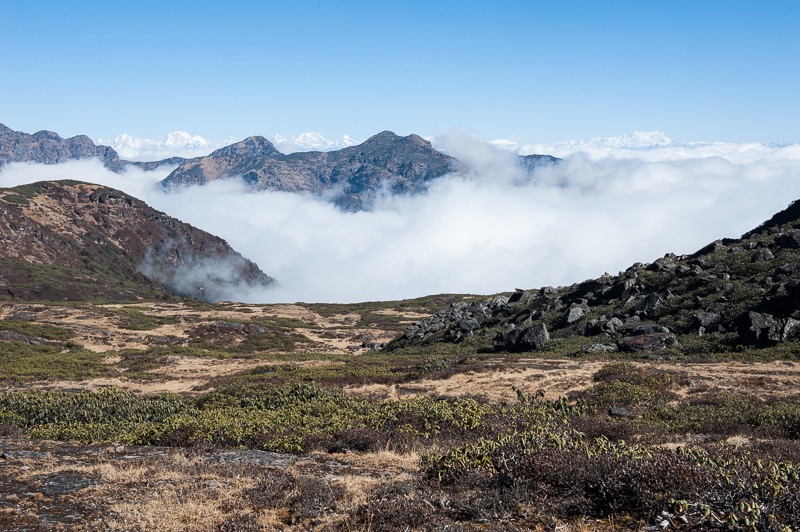 Trekking in Bhutan
Trekking in Bhutan is unlike anywhere else in the Himalayas, complemented by crystal clear air and views that sometimes defy description. Some treks are short and suitable for beginners while others can be long and challenging. Trekking facilities are constantly being improved. All treks in Bhutan use tented campsite accommodation and on many routes you will be the only trekkers in sight!
Trained Guide, Cook, Assistant & Horsemen
All trekking parties are accompanied by a trained guide, a cook, an assistant and at least one horseman. Horses and yaks carry all provisions and most belongings; trekkers ronlyy have to carry their daypack for basic necessities such as a camera, sunscreen, water bottle etc.
The support crew walks ahead of the trekking party each day and pitches camp before the trekkers arrive. A hot cup of tea waiting in the dining tent is a most welcome treat after hours of trekking in this beautiful kingdom.
All meals are carefully planned. Your wake-up call each morning will be a hot tea or coffee bought to your tent along with a bowl of hot water for personal hygiene. For meals, a dinner table is set up with a table cloth, chairs and condiments. A bowl of hot soapy water is provided before all meals as hygiene remains a priority. Breakfast is always cooked and dinner includes a choice of at least four dishes. In many of the remote parts of the country, villages are scarce and few people cross paths and as a result BTCL takes every precaution to ensure the safety and comfort of all trekkers.
You will need to take the following equipment.
A quality sleeping bag.
Waterproof gators.
Sleeping mat for extra cushioning. eg. (Thermarest- a self inflating mat pack)
A headlamp torch and a normal torch. (including spare batteries)
Binoculars and Camera.
Small day pack.
Water bottle
Sunscreen, insect repellent, sun hat and sun glasses.
Towel
Small medical kit that includes aspirin, motion sickness tablets, diamox. (The guide carries a larger Medical kit but please bring own travel medications)
Quality footwear that has been previously worn in, warm clothing & wet weather gear.
Antiseptic hand gel for disinfecting hands without water.
Altitude Sickness Notes
Although rare altitude sickness can be an acute problem for trekkers in Bhutan. Some of the designated treks go above 3,000 meters (9,000 feet). Those who have not properly acclimatized, are unfit and/or those who suffer from respiratory problems are at risk of altitude sickness and are advised not to trek.
PLEASE NOTE: Many treks take you to higher altitudes where the air is thin. The potential for altitude sickness should be taken into account when planning your itinerary and we recommend you consider carrying a supply of Diamox as a precaution. Please note oxygen cylinders are not available for trekkers in Bhutan.
Less experienced trekkers are recommended to consider either the Sinchula Trek, Chele La nature trek or the Dagala 1000 Lakes trek, which are all easily accessible in western Bhutan, passing crystal clear lakes and on clear days offering splendid views of the high Himalayas.
Strenuous rated treks take in northern villages and pass yak herdsmen who spend most of the year tending to their herds. Some of these treks climb as high as 5,500 meters and should only be attempted by exceptionally fit & strong trekkers with alpine experience.